Start your Forest School journey NOW!
NIFSA has been delivering Forest School training and accreditation to educational establishments since 2008.
Click on the "Register your interest" link to complete a simple form.
Somebody from NIFSA will get in contact with you to discuss how you can become a Forest School and start your outdoor learning journey.
There is no obligation or cost involved until you are happy to proceed.
"Forest School" is based on a Scandinavian idea that considers children's contact with nature to be extremely important from an early age.
A study trip from Somerset to Denmark in 1995 decided that the approach was appropriate for use in Britain. Since then Forest School has spread to many areas as educationalists have witnessed the impact that it can have on children.
Webinar: Going Back, Going Outdoors! July 2020
Teachers TV
Outdoor Learning with Forest School
Ted Talks
Forest Kindergarten
Forest School can develop early learning skills
Forest Schools and Early Years
Characteristics of Forest School
Safety
The setting is rigorously checked before every session.
Clear boundaries are established for the children to stay within.
Learning can be linked to the National Curriculum
By incorporating innovative approaches to learning (such as undertaking small and easily achievable tasks) children are encouraged to develop their curiosity and motivation to learn. This is particularly important for those who find it difficult to assimilate knowledge in a strictly classroom situation.
Multisensory
The freedom to explore using multiple senses is fundamental for encouraging creative, diverse and imaginative play.
The focus is on the "whole child" (not just their academic ability).
Regular contact
Regular contact for the children over a period of time (e.g. all year round, in all weathers).
Adult supervision
A high adult to pupil ratio that allows for children to undertake tasks and play activities that challenge them but do not put them at undue risk of harm.
It also allows practitioners quickly to get to know the individual learning styles, abilities and characteristics of the children in their charge.
Training
Forest School sessions are led by qualified Forest School Leaders with a recognised Level 3 Forest School Award.
Risk Taking
Children are encouraged to undertake an element of risk.
How To Become A Forest School
The Northern Ireland Forest School Association has been developing and delivering outdoor learning programmes for schools and nurseries across Northern Ireland since 2008. We have trained hundreds of teachers to become accredited Forest School Level 3 Leaders in the process.
NIFSA has designed a simple 10 step guide which will help you develop your own outdoor learning programme. Each step has dedicated resources and useful links to make your journey as easy as possible.
Step 1
Register an Expression of Interest
It is free to register with NIFSA to begin your journey. Once you have registered you will have access to hundreds of outdoor activity ideas, useful websites, research papers and much more. You will then have access to the remaining steps.
You are welcome to use these resources for free for as long as you wish. However, when you feel it is time for your organisation to become an accredited Forest School (Step 5 onwards) there are a variety of NIFSA programmes available. These have been developed to suit every budget and need your organisation may have.
To become a Forest School your first need to register for free with the Northern Ireland Forest School Association:
Once you have registered, you will get free access to the loads of free resources and tools to help you work towards becoming a Forest School.
Help every step of the way
Use the Forest School Awards website to help you:
understand what a Forest School is.
find out what are the benefits in becoming a Forest School.
choose from a variety of options on how to become a Forest School.
complete all your Forest School Leader Level 3 qualification on-line.
access resources enabling you to develop your Forest School programme.
record all your Forest School activity.
produce Forest School reports for Eco-Schools evidence.
encourage families to become involved in your Forest School programme.
Step 2
Achieve Forest School status
There are TWO ways that registered schools can work through the programme to successfully achieve Forest School status.
Both these options require your school to be a member of NIFSA which costs £100 annually:
"Getting your class outdoors" blended learning programme.
A mixture of on-line and practical training with your class. Provides you with all the theory, practical knowledge and resources to successfully set up your own outdoor learning programme. Includes NIFSA membership.
Programmes cost between £750 and £1,500. The Premium Package includes installation of a seating area in your setting and a visit to Clandeboye Nature Ranger Centre in Bangor. The first permanent Forest School site in Northern Ireland. For full details on all the programmes available please click on the link below to visit our on-line shop -
Buy NIFSA products • Forest Schools in Northern Ireland (forestschoolsni.com)
Funding is available from participating Council areas and company sponsorship but is a competitive process and not guaranteed.
You can request a nearby Forest School to mentor you through the programme. This option is available once you become a member of NIFSA. Additional costs include registration of Open College Network (approximately £50 and official Forest School plaque £50 on successful completion). You must observe at least two different Forest School sessions from your mentor and complete all your on-line assignments before you will be observed by NIFSA for your accreditation.
Benefits of Forest School
The benefits of Forest Schools for children and society are well documented.
Increased confidence and independence of the child.
Development of their language skills by providing a real context for language.
Ability to take risks and to become more open to new experiences.
The forest school program evolves from the needs of the child and includes the child's interests.
Provides the practitioner with an alternative view of the child and further insights into a child's development.
Beneficial to a child's all-round development, particularly in the areas of personal, social and emotional, language and communication.
Underpins the principles laid down in the foundation stage guidelines.
The forest school experience has been very well received by all those involved in it.
Provides opportunities for the children to take risks, problem solve and use thinking skills.
Complements learning in the classroom and can be transferred.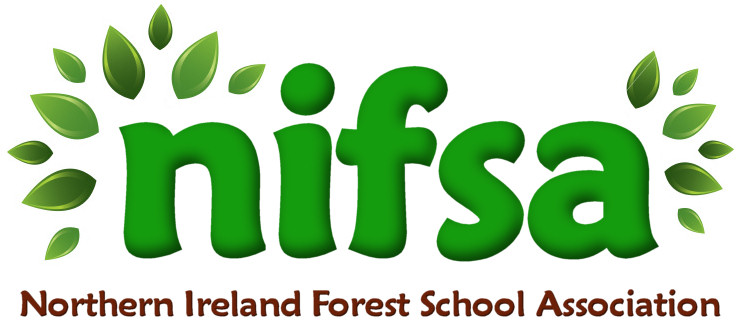 The Northern Ireland Forest School Association
The Northern Ireland Forest School Association (NIFSA) has been developing Forest School programmes in Northern Ireland since 2008. NIFSA is a registered charity and is a company limited by guarantee. NIFSA is recognised as the foremost authority on Forest Schools in Northern Ireland and is hugely respected internationally.
Since 2008 NIFSA has developed its own Government recognised Forest School Leader qualification. This ensures that training and accreditation are to the very highest standard. Teachers that attain the qualification are confident and competent at delivering top quality environmental education programmes with their pupils and train other teachers within their school to become involved.
NIFSA is working with hundreds of schools and nurseries throughout Northern Ireland through a variety of different programmes.
Every year NIFSA trains and accredits dozens of teachers and youth leaders to achieve their Forest School Leader Level 3 qualification. NIFSA engages tens of thousands of children in outdoor learning annually.
NIFSA is a membership organisation and also secures its finances through service contracts with local authorities and central Government in Northern Ireland. Finally, local businesses also support NIFSA to work with local schools.
Dr Gillian Humes, former Science Co-Ordinator Belfast Education & Library Board said this about the work of NIFSA:
"This is one of the few projects that truly integrates all elements of the revised curriculum.
It incorporates aspects of history, geography and science, delivers an opportunity to develop thinking skills and personal capabilities, and has a strong emphasis on promoting numeracy and literacy. Even more importantly than this, the initiative connects children to their outdoor environment, stimulating curiosity and inspiring a love of the natural world that is likely to remain long after the end of primary school."
Getting children learning outside in the natural environment with their schools, youth groups and families.
The Learning Without Walls initiative is the vision of the late Lady Dufferin and the collaboration of the Dufferin Foundation and the Northern Ireland Forest School Association (NIFSA).
Children are suffering from nature deficit disorder, a term used by Michael Louv in his book "Last Child in the Woods". Evidence is showing that children are suffering from serious mental and physical health issues because they are not spending time outside.
The Learning Without Walls initiative embraces all of the programmes run by NIFSA. They have all been designed to get children learning outside in the natural environment with their schools, youth groups and families.
About The Dufferin Foundation
Lady Dufferin was patron of the Northern Ireland Forest School Association from 2016 until her untimely death in 2020
She owned Clandeboye Estate which nestles in 2,000 acres of land in North Down. It has a working dairy farm and Yoghurt Company. There are over 1,000 acres of broadleaved woodland, making it one of the largest native woodlands in Ireland.
Lady Dufferin was always passionate about education, the environment and the arts and had been a huge supporter of them all over the years. She supported all of these worthy causes through her charitable Trust - The Dufferin Foundation.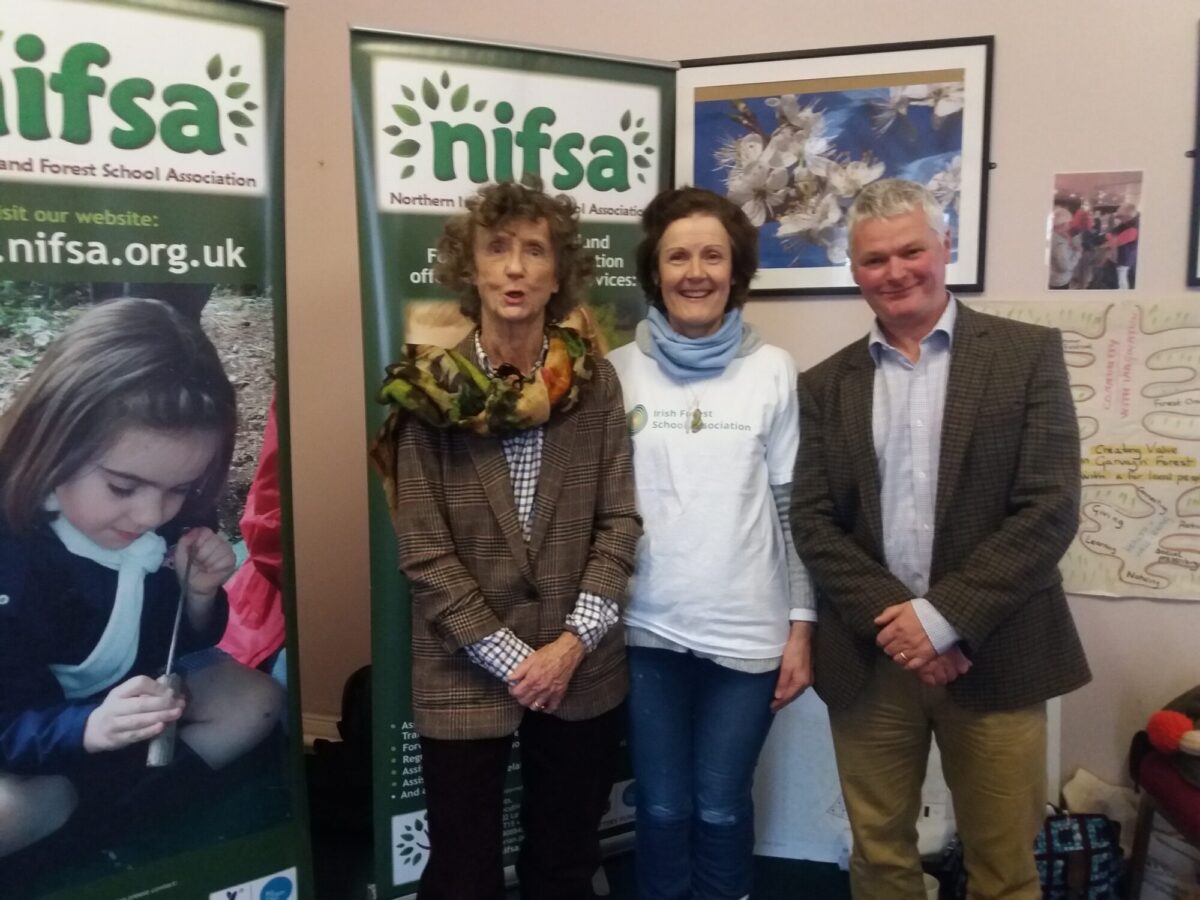 Lady Dufferin was also instrumental in getting the Woodland Trust to operate in Northern Ireland. Now the Woodland Trust have over 53 publically accessible native woodlands covering over 1,000 acres.
Lady Dufferin's vision was to see Clandeboye Estate being used as a vibrant and inspirational centre of excellence for learning. Children, students, teachers, academics will be able to use Clandeboye Estate to become inspired and reconnected again to our natural world. Particular emphasis was also placed on Shared Education. Communities from different backgrounds learn and play together at Clandeboye. This experience breaks down any preconceptions or prejudices children may have of others from different cultural backgrounds and help forge a more tolerant and respectful society in Northern Ireland.
All of this activity comes under the umbrella of the "Learning Without Walls" initiative.
The Trustees of The Dufferin Foundation continue to support the legacy of Lady Dufferin.