About our Nature Ranger Clubs - Information for parents
Local after-school and holiday programmes
in partnership with local nurseries and primary schools
An after-school programme where pupils spend the time outside playing games, meeting new friends, learning about nature and above all - HAVING FUN.
The Forest School Leaders will deliver fun and educational activities every week. Examples might include - making bug houses, lighting fires, den building and much more.
Everybody learns to respect nature by being immersed in nature every week.
Time spent in Nature Rangers is scientifically proven to reduce anxieties, boost confidence and self-esteem and encourage creativity.
Every booking that is made provides additional income for the school and helps deliver Forest School programmes throughout Northern Ireland.
Get your school to become a NIFSA Nature Ranger Club
A great way to generate additional income for your school, offers affordable child-care and provides more opportunities for outdoor play and learning.
Working in partnership with NIFSA, staff or parents from your school would be trained and supported to run the after-school and holiday clubs. All resources, training and on-going support is provided by NIFSA at no upfront cost.

The 10ft x 4ft banner supplied to your school to promote the Nature Ranger Club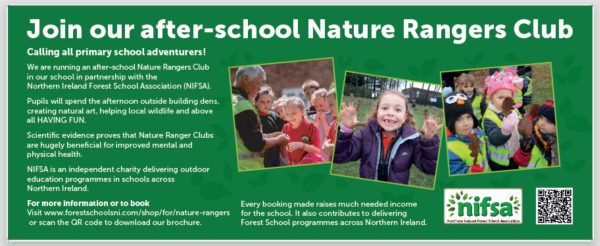 To find out if your school is involved and to book a place
Click on the icon below to download the Expression of Interest Form to become a NIFSA Nature Ranger Club. Once completed upload and submit it.
Expression of Interest - Nature Ranger Clubs
Clandeboye Nature Rangers
NIFSA's flagship Forest School site. Based in Clandeboye Estate, Bangor. Home of the late Lady Dufferin, Patron of NIFSA, Clandeboye Nature Rangers operate an after school service for families in the North Down area.
Children are brought to the Clandeboye Nature Ranger Centre and here they change into their outdoor clothing. With our team of qualified and experienced staff, the children spend the afternoon exploring their natural environment, making new friends, playing and benefitting, both mentally and physically, from being outside in the fresh air.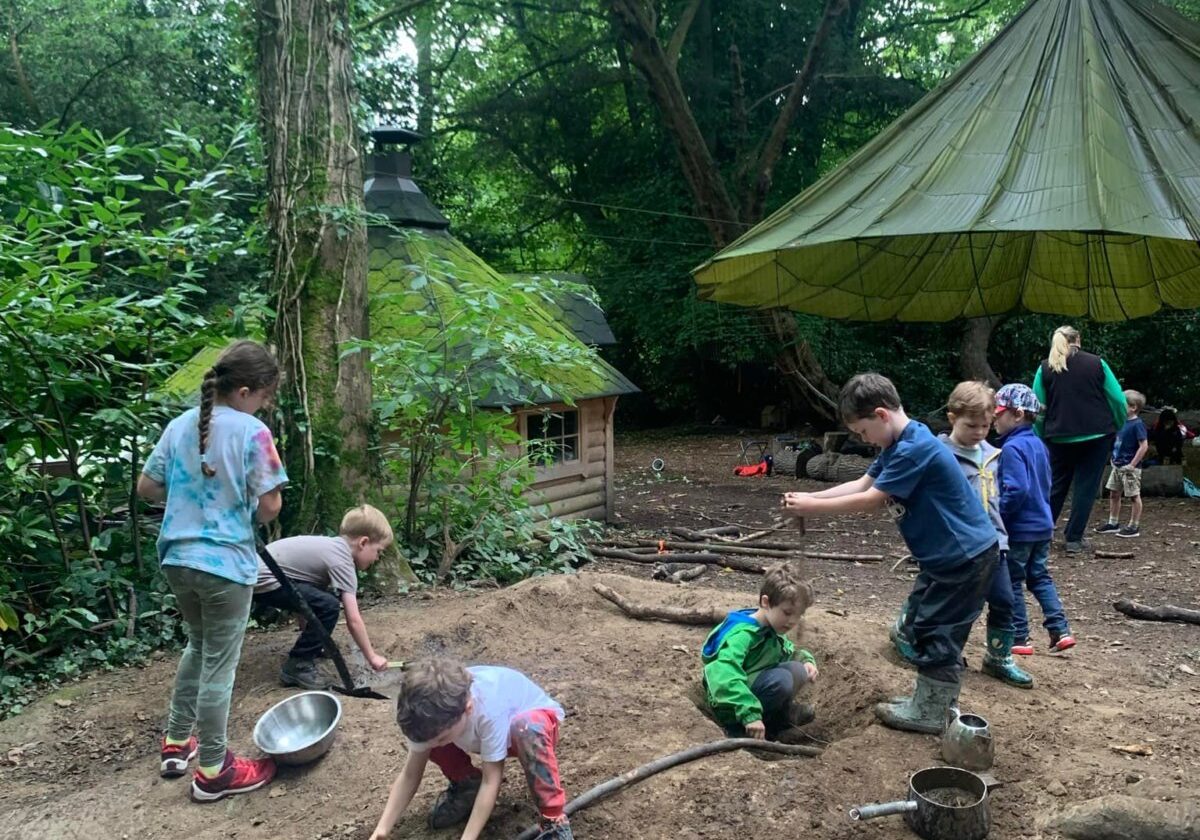 Everything you need to know:
The first Nature Ranger Programme was set up at Clandeboye in 2018 by Northern Ireland Forest School Association (NIFSA) and is supported by the Dufferin Foundation. NIFSA was set up 2008 as an independent charity in Northern Ireland and its aim is to promote the Forest School ethos to educational establishments and like-minded organisations throughout the country.
The ethos of Forest School is based on a fundamental respect for children and young people and for their capacity to instigate, test and maintain curiosity in the world around them. It believes in children's right to play; the right to access the outdoors (and in particular a woodland environment); the right to access risk and the vibrant reality of the natural world; and the right to experience a healthy range of emotions, through all the challenges of social interaction, to build a resilience that will enable continued and creative engagement with their peers and their potential.
Nature Rangers are delivered and managed by the Northern Ireland Forest School Association (NIFSA). NIFSA is a not-for-profit organisation. All money received by NIFSA is used to train more Forest Schools in the local area and support existing Forest Schools.
Registered by Social Services
Nature Rangers are registered by the local Social Services agency. This ensures all staff are fully trained and experienced and policies, practices and procedures are to the highest standard. This gives parents the confidence to know their children are safe and in the best possible environment.